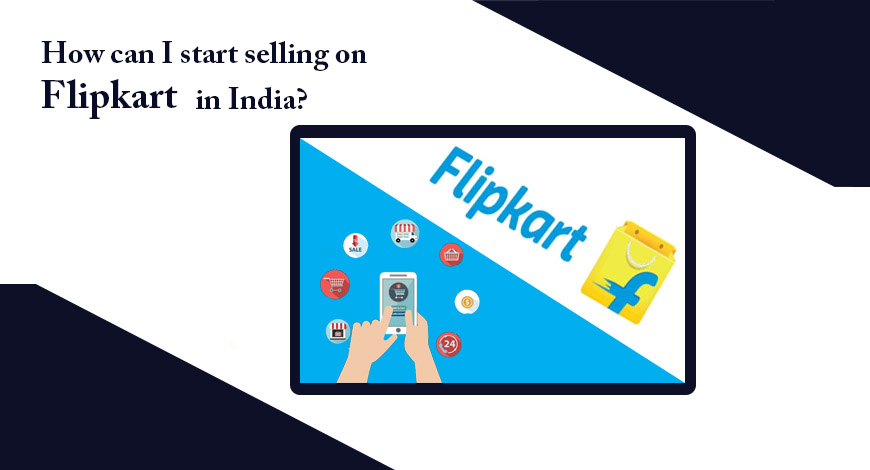 Omni channel approach is the new normal in the ecommerce industry, whether you are a small time seller or a big one, in the competitive market everyone wants to stay on top no matter what. In order to maintain healthy competition, the marketplace is open to everyone who is willing to sell their product through them.
Today you will learn about one of the most profitable marketplaces called Flipkart. According to the report published by Statista, Flipkart reported a revenue generation of 346 billion and a revenue increase of about 12% in the financial year 2020. Being a seller who is just starting out, we can guide you on how you can sell on Flipkart in India.
Getting to the point, let's focus on some questions that a newbie might have around the topic.
How do I Register as a Seller on Flipkart?
Being new to Flipkart you have to follow a certain path to register yourself. Since Flipkart has quoted a certain path for every seller depending on the number of people involved to conduct their business through them.
Documents you will need to register yourself
For individual seller or Sole proprietorship
GST registration certificate
PAN card
Bank account statement
A signed document declaring showing the ownership of the business
For individuals owning a private limited company
Company's PAN number details
GST registration certificate
Certification of private limited company
Articles related to association and memorandum
Address proof for business and identity
For any partnership or LLP Firm, be prepared in advance
Deed of partnership or established LLP
Document for address proof – telephone bill or electricity bill
LLP PAN details
Document of partner who holds the power of attorney
Steps on how you can register on Flipkart?
Now that you have got a clear picture about the documents that you will need to register yourself. Let's look at the steps that you need to do to complete the registration.
First visit page seller.flipkart.com and from there click on the register now button.
From there you will be directed to the page saying "create seller account"
There you see a number of fields that must be filled under Name, mobile number, password etc. You will receive an OTP on the number you have provided for verification.
Going on to the next stage, you can decide and select the pick up location and primary selling category of your product.
Next you will be required to fill in other details like business details, bank details, listing details etc.
Tips to plan out before you proceed with the Flipkart Seller Panel
What will be the nature of the business?
The price range of the products
Expected revenue in the next 3 months
Gender of the seller
Age of the owner's account
Help you might from Flipkart's end to grow your business
Possibility of selling the products under your own brand
No. of products to sell online
And several other pointer related to your business
Why you Should Sell on Flipkart?
As you might know Flipkart is one of the top 3 leading ecommerce websites in India and it was also ranked number 1 in 2019 as one of the top companies on LinkedIn. It was started in 2007 as an online book selling company and now it sells everything online.
It offers the opportunity to every seller even those who are on a low budget. It means if you can start your own business even with minimal investment. Moreover Flipkart can make sure your product can reach the customer and in a tip top condition. Flipkart also offers SPF (Seller Protection Fund) that will protect the seller from any kind of losses. Because of this most are leaned on to listing their products on Flipkart.
Seamless and free listing feature
You can easily sync your products with the help of Flipkart representatives.
Payment only after making a sale
Flipkart has a policy of taking a small amount as a commission which is applicable only after making a sale and successfully delivering to the end customer.
Access to a larger customer base
There are more than a million sales that are happening on a daily basis on Flipkart. Thus every seller will have the opportunity to expand their online presence and engage new customers.
Larger Product Niches
Flipkart offers more than 80 categories of products like books, electronic gadgets, sports equipment, laptops etc. These mentioned products also have subcategories so that the customer will be able to define his own line of products in a more specific way.
If you compare online, in India there are only two king giants in the category of ecommerce websites: Flipkart and amazon. And both of them have their own set of pros and cons in terms of fulfilment, reconciliation etc.
There is another question that always comes across in the mind of sellers i.e.-
Can I sell on Flipkart without GSTIN?
There are certain products listed in the product category on Flipkart that can be sold without a GSTIN number. For example books can be sold without GST in that case you have to provide the bank details that are associated with your business.
After selecting and giving all the necessary details a seller dashboard will appear there you can check which details are needed to be uploaded before selling on Flipkart.
Conclusion
Starting out a new business is always going to be tough especially when you are going to compete with more than 28 million sellers online. But if you plan out and follow certain steps like investing in product listing ads, maintain an updated inventory etc. your business will thrive organically and generate significant revenue.