Effortless, instant, Automatic repricing
Marketplace business is open for any seller to list and start and selling his product in a compliant manner. Hence for standard and branded products, we often find that there are multiple sellers and/or multiple buying options to choose from.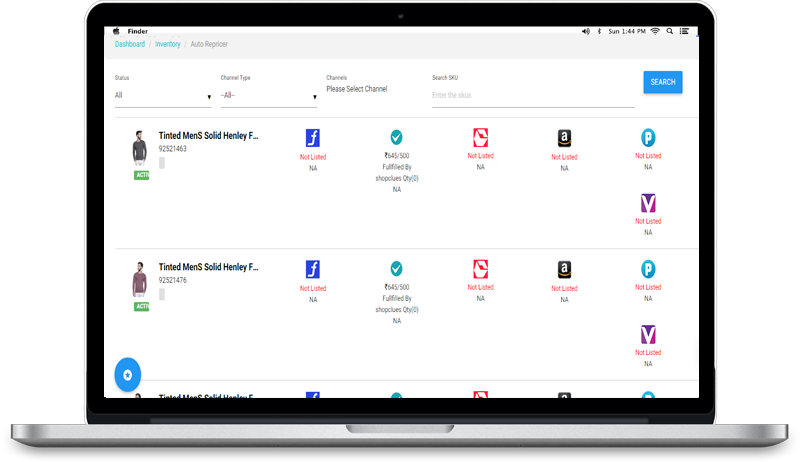 With increasing competition on these products, every seller has a common objective to stay on the "Buy Button" and get maximum sale. And again with thousands of products and multiple marketplace channels, it's manually challenging to keep monitoring and refreshing the "Buy Button" on every product page and then changing the price again and again on the seller panel.
eVanik's centralized multi channel ecommerce software and inventory management software has a built in "Automatic Repricer" tool. All one needs to do is to set the base and ceiling price of the products one time and the system will keep changing the price ahead of competition to ensure that the seller is always on the "Buy Button".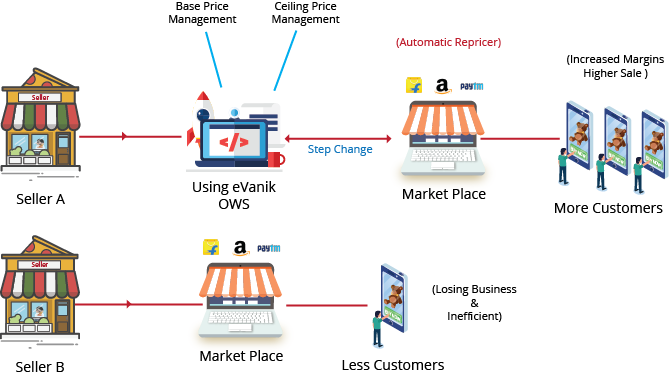 Beat the competition by repricing within seconds
eVanik OWS automatic repricer plans work out of pricing by offering you the flexibility to automatically adjust your prices based on various factors. Plus, we do it faster than anyone else.
The faster you react to changes in the market, the additional time you'll win in the buy box. eVanik OWS reacts to changes your competitors make in 90 seconds, so the moment one reprices goes out of stock we react immediately to get you the buy box. As a Web Services provider, eVanik OWS ensures that you won't be beaten on speed.
Track your Buy Box Performance
We track each contender's cost/price and disclose to you how frequently those costs move to keep you ahead of the game. See what percentage of your items cover with every contender and the items they are beating you to the buy box on. Then target them with a single click.
Assess various qualities like dealer rating, pricing, and fulfillment to get in the winning position more than your rivals.
Get actionable metrics at a glance
With eVanik OWS automatic repricer you get a complete picture of how your products are performing, including current price, Buy Box status, stock levels, last sale information and more.
Make data-driven business decisions with information on your top earners and sellers, and your most and least profitable SKUs.
Make better repricing decisions based on our projections on your inventory performance, the price and sales history of your products, along with the corresponding Buy Box for every SKU.
Velocity repricing
Change your prices based on stock levels. Sell all the more forcefully when your stock levels are high and increase prices when your stock goes underneath a preselected level.
FEATURES
Pre-defined strategies
Get started in minutes with our repricing technique templates. Our Buy Box experts have created some pre-defined strategies to help you win.
Consistent pricing on all sales channels
Replicate your product pricing across all sales channels, including Amazon, eBay, Magento, Shopify, BigCommerce and more.
Search, filter, sort
Quickly find and evaluate products with our powerful search functionality, filters, and sort options.
Speed
eVanik OWS automatic repricer faster than your competitors with instant repricing. eVanik OWS reacts immediately to competitor price changes, so you can beat them to the Buy Box.
Actional dashboards
Your repricer dashboard will tell you how many times you priced up and down each day and how many often you won or maintained the Buy Box.
Understand and beat Buy Box competitors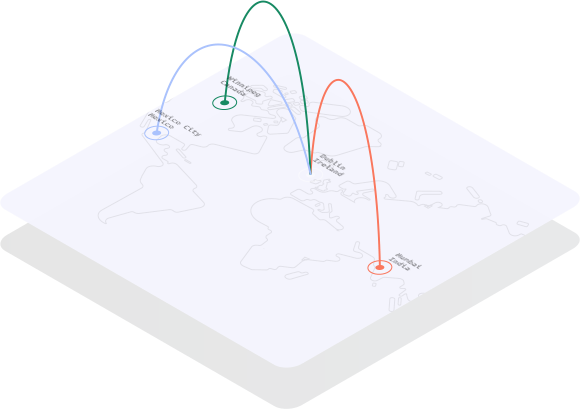 Spy on your rivals
See which items contenders are beating you on, the seller's fulfillment methods and the average selling price.
Take quick action
With all the important data within reach, you can choose to individually target your biggest competitors with a single click. Choose to price against them based on fulfillment, stock levels and more.
Buy Box winners
See who is beating you to the Buy Box and plan the course of action accordingly to increase your sales.
Price movement
Make smart repricing decisions based on the price and sales history of your items, along with the corresponding Buy Box winner for every SKU.
Squeeze out more profit and push prices up at the right time
eVanik repricer will endeavor to get you more benefit on every deal when common scenarios arise, such as when competitors are out of stock or when you're already the Buy Box winner. eVanik Repricer can push your prices up when you're likely to win the sale.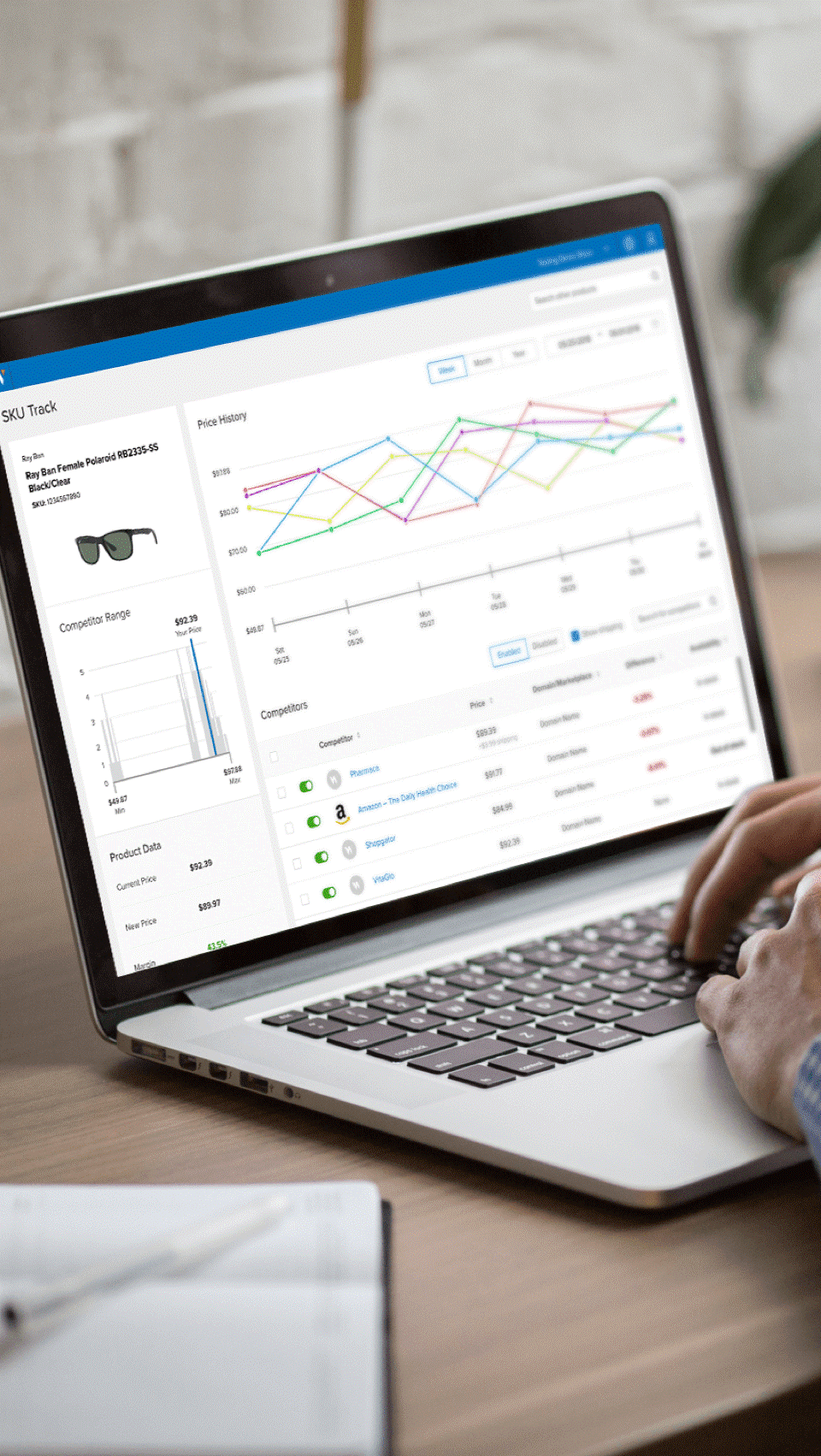 Why eVanik OWS Automatic Repricer
eVanik automatic Repricer is essential for multi-channel ecommerce. It helps to set your own customized profit margins for every listing on every marketplace.

eVanik automatic Repricer from Seller Dynamics ensures you will always sell at the highest possible price.

eVanik automatic Repricer with powerful options to give you multiple pricing strategies, which enables you to win your business time after time.

eVanik automatic Repricer includes exchange rate conversion for selling internationally to generate sales for you around the globe.