The enterprise platform for any business model
eVanik OneWorld Suite, India's most awarded and leading provider of cloud-based e-commerce back office solutions including Financials/ERP and Omnichannel commerce solution, is designed to help e-commerce companies and marketplaces meet their complex functional, industry, seller acquisition and management requirements. eVanik OneWorld Suite has unlocked a whole new world of possibility for eCommerce Companies. Across every category, every business type (B2B, B2C or B2X), in every part of the world, we enable your team to stay agile and flexible
Businesses that have a website with e-commerce options (e.g. online ordering and online selling) or are thinking about implementing an e-commerce solution will find eVanik OWS a useful platform for integrating back office operations with e-commerce.
What is Integration?
Here integration refers to the coordination between e-commerce systems and back office processes.
Back Office Operations
E-commerce back office operations include processes used by employees that help keep the business running. Accounting, finance, inventory, order fulfillment, distribution, and shipping are examples of back office operations. Front office operations are focussed on customers and refer to activities such as sales, marketing and customer service. Effective integration of back office opeartions with e-commerce improves coordination with the front office systems resulting in better customer service and reduced duplication of effort by staff.
Need For eVanik OWS platform
eVanik OWS integrate and automates many internal as well as back office processes, increases customer self-service options and reduces work for the staff so that workers can concentrate on other duties. Custom dashboards simplify monitoring the platform, analyzing customer behavior and managing a broad range of company processes from a single interface. Integrated websites can trigger alerts for various scenarios such as engaging personally with a client, troubleshooting problems and reordering inventory and supplies.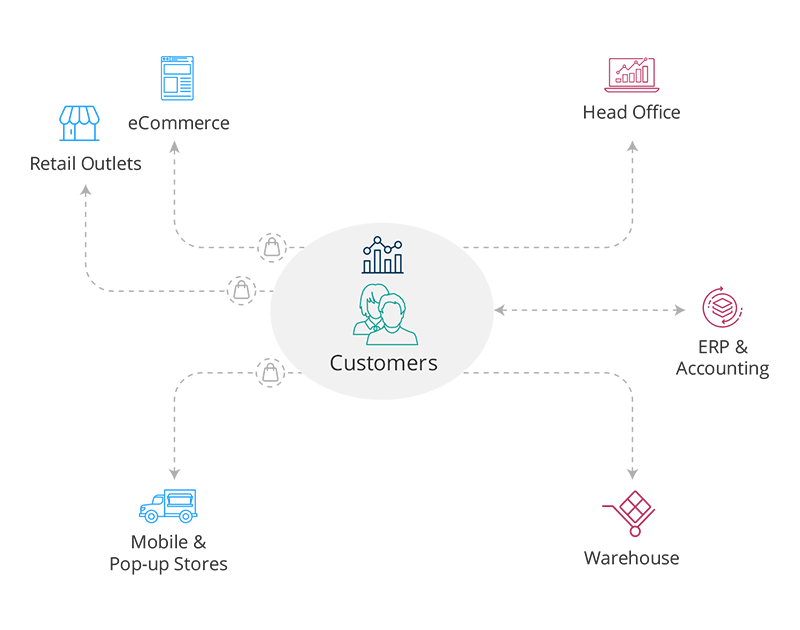 Benefits of integration for internal/ back-office operations include:
•   Producing packing slips, shipping labels, and backorder lists
•   Maintaining minimum inventory counts with automated reordering or staff alerts
•   Managing partial shipments if customers want them
•   Generating invoices, marking them paid and emailing them to clients
•   Adding sales taxes, customs and duties, and other surcharges
•   Handling multiple payment options and in-house account billing
•   Automating recurring orders and integrating these requirements in maintaining inventory
•   Decreasing administrative costs by increasing the speed of order fulfillment, reducing the need for staff involvement and ensuring that information only needs to be entered once
•   Bringing information from multiple sources to speed custom price quotes and manage custom product configurations
•   Calculating, printing and mailing statements automatically for each month
•   Empowering customers to change, amend, cancel and return their orders
•   Integrating online and brick-and-mortar sales
•   Updating inventory counts from multiple distribution points such as retail sales, outside salespeople, trade shows, distributors and multiple warehouses
Five Reasons to Integrate Your Back Office and E-Commerce Systems with eVanik OWS
1. More Affordable Integration Options. Integration options for small businesses are now more affordable with evanik OWS.
2. Less Administrative Work. Administrative work is decreased because the information is entered just once. Integration also means you do not have to check data between systems.
3. Lower Operational Costs. More efficient processes and less duplication of work can help reduce the overhead and cost of sales.
4. Improved Customer Service. Customer service is improved because integration reduces delays in providing data to the customer. For example, employees should be able to quickly check to see the status of a customer's order. The integration gives you access to more accurate information about the product, pricing, and stock availability. This information can be efficiently shared with the customer.
5. Increased Readiness for Change. Devices such as mobile phones and handheld computers are becoming more popular ways to link to back-office frameworks. Integration can help your business adapt to this trend.
Generating Fully Automated User Experiences with eVanik OWS
eVanik OneWorld Suite is a Fully automated platform that enables customers to view their records, look for products in past invoices, connect with shippers on the website, calculate customs, find alternative substitutes for out-of-stock items and find more detailed information on any product from existing content or integrated vendor resources. Many customers can manage their accounts without human intervention, and although many older people consider this appalling, younger generations feel empowered by the ability to manage their accounts 24/7. Even though direct engagement might only occur when there's a problem, that doesn't mean that the company staff doesn't communicate with customers. Emails, text messages, marketing incentives, and two-way communications are enhanced by our eVanik OWS integrated platform.
Growing B2B Companies with eCommerce Integration with eVanik OWS
Choosing eVanik OWS as a development partner that's familiar with all aspects of business-to-business sales and marketing fuels growth and makes reaching new customers and developing new markets easier. Evanik OWS Integration of back-office operations offers better ways to manage internal and outside business intelligence so that companies can increase customer satisfaction, identify expansion opportunities, manage global sales and shipping, and grow business operations organically. Company growth often demands new internal resources and skillsets, but building out a new platform every few years limits growth potential. An integrated platform scales up easily to meet new difficulties and openings without interrupting regular business operations. eVanik OWS's integrations can handle retail and B2B sales seamlessly and even manage complex operations where salespeople, business associates, affiliate marketers, and marketplace venues generate sales and affect inventory levels and how each group of customers is treated.
SCHEDULE A FREE CONSULTATION