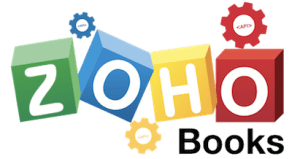 ZOHO BOOKS
Zoho Books is online smart accounting software that manages your business, keeps you GST compliant, automates business workflows, helps you work collectively across departments, and is designed for growing businesses. It is also the holder of our Great User Experience, Useful Free Trial Awards for 2017 and winner of App Innovation Challenge.
Zoho Book streamlines all essential accounting tasks, and organizes all types of transactions on the same platform. With this system, you will always keep in line with the outstanding bills and invoices of your company, control your expenses to save money, and eliminate compliance worries.
Zoho Invoice, Zoho Books, and Zoho Expense on the other hand make complex operations extremely simple and empower businesses to manage their finances easily. All three apps give businesses a platform that delivers beyond traditional invoicing, accounting, or expense management with various market-first product innovations.
A core part of the digitalization challenge is to bring essential functions to the devices that are being used by most business owners or entrepreneurs. With feature-rich, fully-functional native apps for iOS and Android devices, these Zoho apps were in a prime position to satisfy users' needs for availability and accessibility.
The distinctive advantage of Zoho Book is how it eliminates data entry, and allows you to import all bank and credit card transactions, and categorize those according to your bank's rules. This possibility doesn't only save time but makes sure you're working safely, and in line with all compliance standards.
The tight security features and practices that enable safe collaboration and secure financial transactions for Zoho users helped it to become a favorite accounting software for its users.
Here's how Zoho Books keeps your business GST compliant
GST treatment for items and contacts
Zoho Books lets you associate HSN/SAC codes with your goods and services and record the GSTINs for contacts at the time of creation. The next time you generate a transaction, the corresponding information is auto-populated.
GST in transactions
Get a grip on your taxes with Zoho Books. From place of supply to GST levied on goods and services, display all relevant details in your bills and invoices so your transactions meet the Government mandates.
e-Way bills for consignments
Create e-Way bills from within your accounting software. Zoho Books automatically detects transactions that require e-Way bills and helps you capture the e-Way bill information in your invoices and transport copies.
On-time returns filing
File your GST returns directly from Zoho Books. Your accounting software will automatically calculate your GST liability and enable you to push transactions to the GST portal and file returns directly.
eVanik OWS has an end to end integration with Zoho Books through an API. This means that all e-commerce transactions will flow from eVanik to Zoho Books in a seamless manner.