Instant Profit Calculation over Bulk Transactional Data
Hundreds and thousands of products are being sold by sellers on multiple ecommerce marketplace channels.
Pricing on marketplaces for products is dynamic and ever changing with direct impact coming from competition, stage of product life cycle and fee, charges, return rates etc.. It becomes difficult to drilldown exact profits but eVanik provides with E-commerce profitability calculator.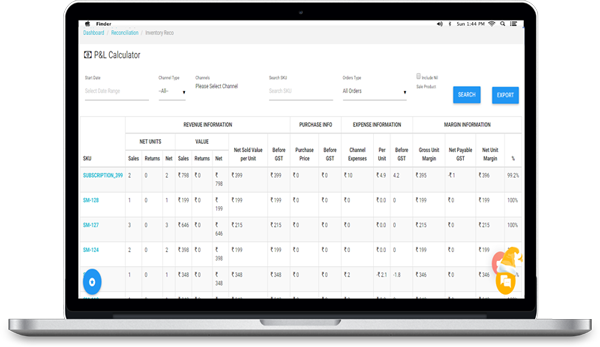 Why eVanik Profitability Calculation?
Great prices can just ensure stickiness to "Buy Button" and higher sale. But the big question is that which such dynamic factors impacting the pricing of products, is the sale profitable or leading to unforeseen losses?
Working out on a profit and loss at product level on e-commerce marketplaces requires extremely detailed calculations on multiple data points. A manual effort may surely solve this problem, but the time consumed and the effort and cost involved may not be justified.
eVanik's product profitability calculator just eases out this time, money and effort. And brings down the exact P&L of each and every product sold on marketplace channels. Filter down your P&L calculator on date ranges, marketplace channels, paid or unpaid orders and lots more. Reprice your products directly from the dashboard.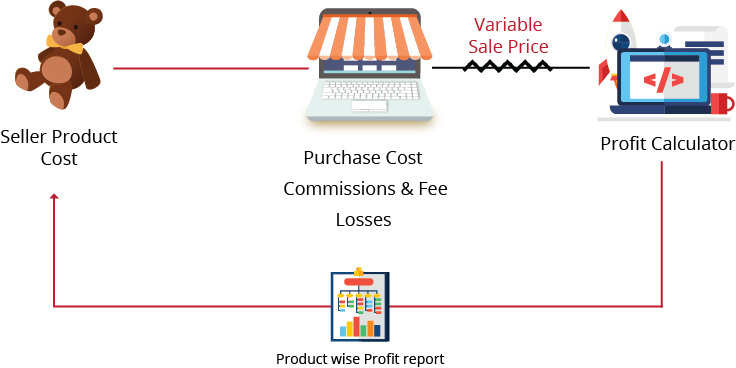 How Do We Perform?
Profitability is everyone's concern in the business. Finance is the backbone of any business size. They cannot be losing out on profits. As a software solution, we try our best to build a quick and correct mechanism to extract the profit per month or year. We have an artificial intelligence based dashboard that records all the activities of transactions over columns of charges, payments, GST, damages, outstandings, etcs. This allows an easy and rapid calculation of  profit in just two clicks. We are the master of profitability and are ready to give you immediate results always, whenever required.