Shipping Reconciliation
The Shipping Reconciliation feature tool makes it easier for online sellers to reconcile their shipping expenses in a business with eVanik OWS. We provide a faster and simpler way to smoothen and strengthen your operational capacity.
Many businesses attempt to use eCommerce using manual methods of recording the data. This is regarding their charges and payments to extract the net return after reconciling them all. In this, a seller might download a spreadsheet of all transaction data, manually formulate reports and find results over the days cumulatively. But by that time, some pieces of that data on the seller panel would have changed. In addition to being insecure, the seller would waste valuable time daily and their efforts. This is depressing, right?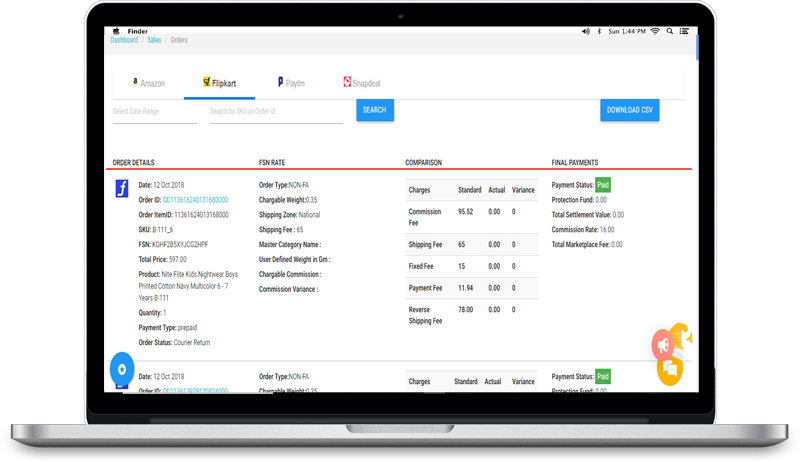 Furthermore, this process would neglect the opportunities available in an immediate business format like eCommerce. That is why incorporating the data into automated systems for future usage without handling segregated files throughout the enterprise is a must. Businesses seeking to get the most out of shipping fee reconciliation have seen losses on a large scale. Lack of sharing the details per product info also increases the hardship. Therefore, learn what advancement you require to rectify your mismatched shipping charges NOW!
Why eVanik OWS Shipping Reconciliation Tool?
eVanik OWS' shipping fee reconciliation is a tried and tested tool that includes a sophisticated range of algorithms designed to simplify shipping fees from transaction and reconciliation reporting. Since the tool is designed with dynamic shipping policies of marketplaces in mind, sellers can enjoy more accessible data utilization across their enterprise and third parties.
The information available from the eVanik OWS platform can be used to improve many aspects of business, including sales processes, marketing campaigns, fulfillment processes, and more. We even have a team of experienced developers specialized in developing custom systems to meet the specific data needs of the sellers.
What Challenges We Cover?
Dead Weight vs. Volumetric
Deadweight or volumetric is the shipping scale the third party charges the sellers for logistics. This is the dynamic measure for each load as per the product. This also decides through which mode the product has to be transported to the nearby shipping warehouse. The delivery address and logistics are directly connected while costing. This type of transaction needs to be recorded simultaneously during bulk order processing. This allows no mistakes and duplicacy. 
eVanik OWS works to operate this responsibility under their server-based report, where they enter the data for bulk orders while processing for multichannel to their specific nearby warehouses. There is no need to recheck the data because they are real-time-based analytics that guarantee accuracy. While reconciling shipping charges, we match the charges deducted for specific products for their logistics needs. This process is transparent, easy to decode, and fast, which keeps the sellers out of losses on shipping. 
Distance (Local, Zonal, National)
Shipping for different states and cities is different with charges. Sellers who operate in bulk orders in more than one channel do not have to worry about their quick reconciliation on shipping deductions. Many sellers have shared the experience of not being able to track their loss due to rapid order fulfillment demand in Omni channels. Hence, we acknowledge the same as a scope to help such sellers and help the online community to ease their reconciliation process.
eVanik OWS has a feature to carry out this function without any hustle instantly. We offer our smart sellers automatic reports on such charges. We understand how tough and vague it is to calculate the shipping charges out of the total working investment specifically for one product. It is even harder to find the historical data while analyzing. But we are here to solve that problem too. We generate reports that can be easily used in the future because of historical data in presence in the same dashboard. We allow historical saved data to remain in the database so that you may use them while making your important business decisions. As history tells you when and why you went ineffective, you must have reports to analyze with satisfactory growth too which is always fulfilled by us. 
Sometimes, charges of any type get recorded twice. This creates hardship while calculating in accounting and reconciling. This type of mistake generally happens for shipping because it involves a third party that needs to be paid by the sellers. If the sellers have Amazon order fulfillment or any other online marketplace fulfillment process, they have no records of their own to match against each other. If they fulfill on their own, they get wrong while entering with a manual method. Then what can be the right solution? 
eVanik OWS shipping reconciliation tool is designed with artificial intelligence and is eligible never to let you lose out on a single penny. We know the hard work while operating and processing each deal on different channels. That is why we ease your work by providing you a solitary dashboard in a cloud-based solution where you have to tap twice, and you would have all the past and present data entries at your fingertips. Trust this; it is the most fantastic tool believed by all the Chartered Accountants of eCommerce sellers who get the most direct and fastest experience while reconciling. 
Get in touch with eVanik OWS today to learn more about how eCommerce Business Management can be handled without stress and real-time access that can leverage to improve business processes effectively and efficiently.