eVanik with Shopify
We're here to make your life easier and cut down on the time you spend shipping and fulfilling. eVanik is here to make the business of selling online easy, beautiful, and affordable through Shopify. Together, we can help you sell and ship out all of your orders quickly and easily! Check out how you can connect Shopify with eVanik OneWorld Suite to streamline Shopify shipping and order fulfillment.
Shopify works by binding together all of your business into a solitary headquarters community. Assuming you're a Shopify dealer with both on the web and actual presence, your stock gets matched up so you can deal with your store(s) from one record, on any device.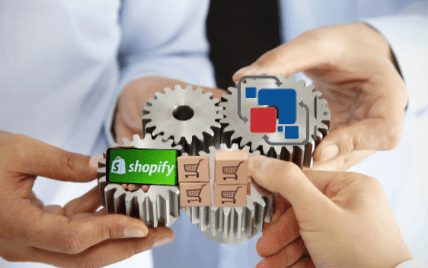 You can add and deduct highlights as you see fit and as your business changes, or tap into administrations on a limited time offer premise. Our ethos is straightforward: entrepreneurs ought to have the option to step up their business at whatever point and anyway they need, and it ought to be not difficult to do.
Shopify Features We Support
Easy Setup
Connect your Shopify account to eVanik OWS in seconds.
Order Syncing
Sync orders from Shopify (and wherever else you sell) at the click of a button. Complete order data, including recipient address, products, cart notes, and more import with the order.
Product Information
Product details such as item name, SKU, weight, and images import with the order so you have all you need to quickly pick and pack the order.
Custom Fields
Map special fields such as Fraud Risk and Customer Loyalty (total amount spent, orders placed) into eVanik's custom fields.
Discount Codes
Any special discounts import along with the order and display on the packing slip.
Customer Requested Shipping Service
eVanik imports the customer's selected shipping choice, which you can then map to the appropriate shipping carrier, service, and package automatically.
Automatic Shipping Updates
After shipping label creation, we transmit the Carrier, Tracking Number, and Shipping status back to Shopify and your customer.
Customizable Shipping Confirmation Email
Especially handy for those who have more than one Shopify store, you can customize the shipping confirmation e-mail sent from eVanik OWS.
Manage Shopify Shipping Anywhere
eVanik OWS is web-based and mobile compatible. No matter where you're at, we help you get ship done.
Why eVanik Shopify Integration?
Shopify is an all-in-one eCommerce platform that is popularly used by the sellers' community. eVanik OWS therefore, provides ease of operation with integration of two tools in one. This way, you may get all the information of shopify activities and get enough time for finding effective marketing methods and actionable insights.