Simple and Segregated Inventory Management Software
eVanik's inventory management software tool relieves a seller of the above pain area and completely automates the online sales and inventory management system. eVanik OWS is connected with all major e-commerce marketplace channels for inventory management.
All that is required to be done is to setup the virtual common inventory once and the system will manage it across all marketplace channels for all products.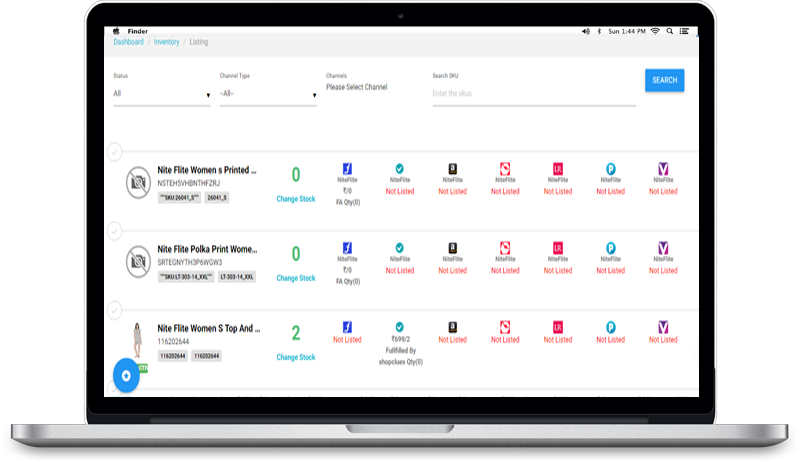 What Do We Add for Effective Inventory Administration?
In e-commerce marketplace scenario, inventory management becomes even more critical and hence it's of utmost importance to have a seamless and centralized ecommerce inventory management software.
Whether you're an established ecommerce business or just starting out, we're here to help manage your inventory across Amazon, Flipkart, Snapdeal, ClubFactory and anywhere else you sell. eVanik's inventory management software tool saves you much needed time so you can focus on growing your retail business while we improve visibility into your supply chain.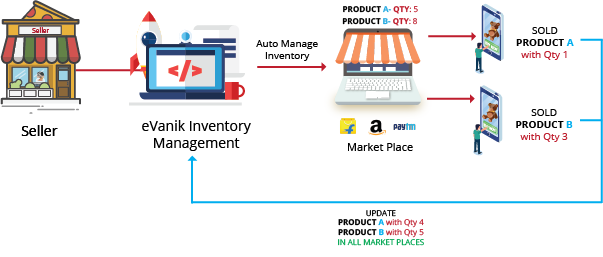 Everything Needed to Manage Your Online Inventory
Easily track and sync product quantities across all your online sales platforms in near real-time with eVanik OWS Inventory Management Software.
Selling on More Than One Online Channel?
Whether it is a webcart like WooCommerce, Shopify or Magento, or marketplaces like Amazon, Flipkart and ClubFactory – your inventory needs to be accurate and it needs to be synchronized.

Every time you receive an order from an online channel or your retail store, eVanik OWS's inventory management software not only fetches that order, but it also automatically refreshes stock data to all online channels where the product is listed.
Sync your inventory from a single location as well as all your locations on online channels using eVanik OWS Inventory Management Software.
Features of eVanik OWS's Inventory Management
Composite SKU's (bundles/kits)
You can now combine SKUs to create composite SKUs that will depict the inventory of the underlying SKUs. You can now combine SKUs to create composite SKUs that will depict the inventory of the underlying SKUs. Managing inventory with bundles help you enhance your catalog by creating new offerings from your existing products with attractive pricing for higher-order values.
Advanced Order Routing
Advanced Order Routing based on geolocation, warehouse priority, and stock availability. You can now combine SKUs to create composite SKUs that will depict the inventory of the underlying SKUs.
Custom Alerts
Set custom alerts for low inventory levels and create purchase orders. Our level check-in alerts allow you to never face Out-of-Stock situations that hampers your customer sentiment badly. Enjoy the ensured stock-availability and plan your fill rates with ease before it's too late.
Product SKU Mapping
Fetch catalog and sync inventory in real-time with your online channels. With our unique inventory mapping system, track products with different identifiers
Multichannel Tracking
Track product quantities and sales across boundless integrations! For merchants that have inventory in multiple warehouses, eVanik can allocate inventories and designate orders based on predefined pre-sets or rules, such as region, shipping method, or other special designation of inventory.
Sell Better,  Faster with eVanik OWS
With the best inventory software, you can turn inventory faster, maintain higher margins, and reduce manual inventory-related tasks, helping you focus on what you do best: sell.
Centralize Your Inventory
You may get a single record book over your inventory that could tell you all the actions happening and required. There is a solitary dashboard which talks about damaged, dead, returned, and fresh inventories in one glance. Visibility across multiple sales channels, stock locations, and stages of the product life cycle within one simple inventory app.
Sell Flexibly
Plan your selling strategies with a comprehensive and controlled inventory database. Grab the Buy Box Button and win the highest selling opportunities on multichannel and improved customer experience with impressive stock management efficiency. Take advantage of merchandising techniques like bundling and pre-orders.
Low Stock Alerts
Avoid overselling and stockouts with low-stock alerts, and automatic stock adjustments as sales orders are processes and purchase orders are received. Low inventory alerts make it simple and convenient to place a re-order from the appropriate supplier directly from eVanik´s.
Automate Purchase Orders
eVanik´s powerful capabilities automate and simplify your inventory management. eVanik automatically adjusts inventory through purchasing or vendor feeds. Product availability amounts are automatically updated across all marketplaces.
Transfer and Track Inventory
eVanik´s end-to-end platform will automatically reserve availability when an order is first created and decrease it from physical inventory upon shipping.
Cloud-based Inventory Management Software
Server-based analytics means operating and recording details of inventory on a computerized system. This requires no hard effort, time but simple entries and then the final result is extracted easily. It is also easy to share amazon teammates and ensure accuracy.  Modern Inventory software without the excruciating updates; available regardless of where a client or group is based.
Integration with Accounting Software
Integration helps sellers to get all the real-time information in a single place without hustling and looking for two different tools for management. Build and study Sales and Inventory Reports
Benefits of our cloud-based inventory management system
No Software to Install
eVanik OWS Inventory is a fully web-based solution that is hosted in the cloud. As a result, you never need to stress over installing software, upgrading updates, or archiving up your data.


Integration of Multiple Selling Platforms
eVanik OWS Inventory has over twenty integrations with many selling platforms including Flipkart and Amazon, and will mitigate the headaches due to overselling. eVanik OWS automatically updates the selling channels in real-time with updated stock levels.


Support High Transaction Volumes
Having a large number of transactions? No Problem. eVanik OWS Inventory supports higher volumes of transactions. eVanik wants to be a successful long-term partner in your success and give you a robust product offering without requiring a large financial or long-term commitment.


Free Training and Support
eVanik OWS offers a free training session from the start, and you'll be assigned a dedicated customer relationship manager for responsive support. Centralized and synchronized inventory management software for multi-store, multi-channel businesses selling online and offline.