Top 9 Profitable Products To Sell Online In 2021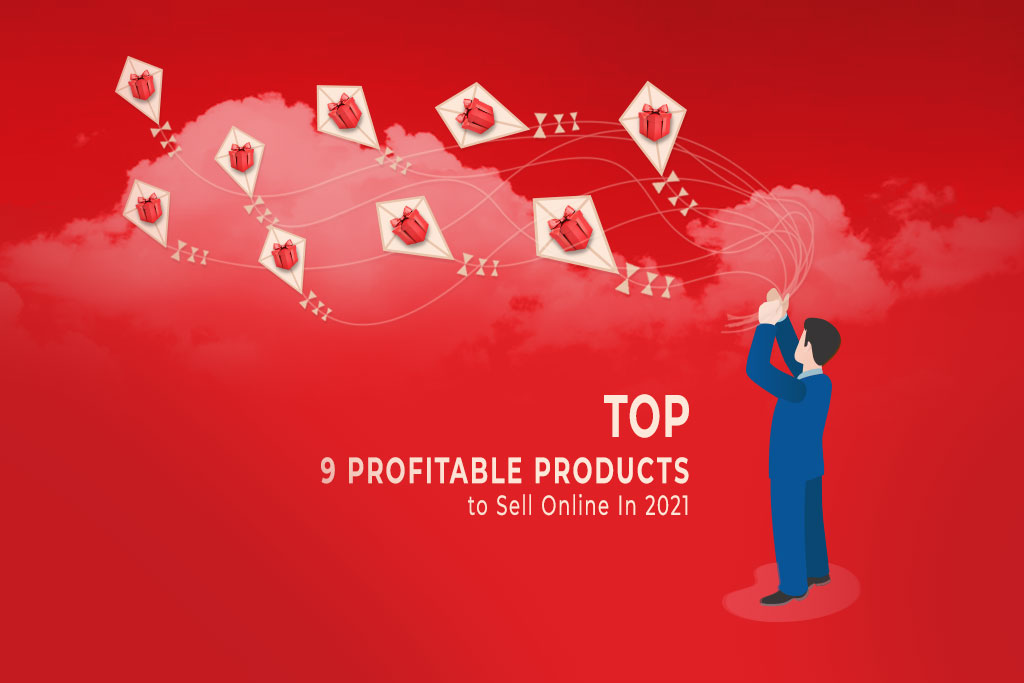 An eCommerce seller is always on the lookout for which products to sell online. Because sellers have the tendency to buy in bulk and if a certain batch is gone to waste, the cost has to be bear by the seller. Which finally will be reflected in the price paid by the customer.
It is always advised to follow the latest trends, people's reactions to new niche products, and recognize the profile of your ideal customer. Now let's come to the point, here you will learn about which product to have to focus on that might be in demand in the year 2021.
These products only cover the categories based on the selling and search trends in the year 2020 and we believe it will carry over in 2021 as well. So be sure to keep a close watch on this niche of products.
Peel-off face Mask
Several search tools and multiple eCommerce platforms like google trends, amazon, Oberlo, etc. are indicating that the demand for peel-off masks has increased over the last few months. The search data published by "Keywords everywhere " suggests that this specific keyword receives more than 30,000 every month.
Face mask keyword facts
Another keyword that is receiving the most searches is "charcoal face mask" which is over 41000 and "facial mask" over 81000 per month. The data also suggests that there are more than 5.3 Million views on "peel-off face masks" alone. You can also follow Instagram and Facebook if you are planning to sell beauty products online.
Designer Nail polishes
Designer nail polishes are a catching trend among the younger demographics and according to "grand view research" reports the nail polish market might reach 15 billion USD by the year 2024. "Google trends" also suggests that the searches for "Nail polish" are spiking on an average up to 250,000 after March 2020.
Why designer nail polish is in demand
The younger generation is now starting to experiment with nail products like enamel, lacquer, and varnish. And due to their innovative look, texture, and effects, these cosmetics might segment might boom in the future.
Workout Bands
Resistance bands are quickly becoming one of the highest-selling online products. It is a known fact that the corona pandemic has pushed us into isolation and has led to the shutdown of gyms around the world and has made us unfit. To deal with this, people have started purchasing gym equipment for their home gym.
More facts on resistance bands
"Keyword everywhere" is suggesting top searches on keywords like resistance bands with 673,000 per month, exercise bands with 25000 per month, and exercise resistance bands with 5300 per month. Focusing on these niche lines you can attract some compelling potential customers with good conversion rates.
If you are a seller it is recommended to select some branded products, optimize your product page, and put in some good pictures.
Water Bottles
In 2018, it was revealed that the reusable water bottle market is valued at more than 8 billion dollars and is growing at a rate of 3.9% until 2025.
What do numbers say
The trend data published by keywords everywhere shows water bottles have a search volume of 103,000 per month, reusable water bottles at 27,100 per month, sports water bottles at 14,800 per month, and custom water bottles at 22000 a month. Google trends is also showing a gradual increase in the demand for this line of products.
Probable reason behind it
As humans are becoming more of a threat to the environment, a non-reusable water bottle is a go-to choice to reduce any negative impact. Your possible target audience is more likely to be more health-conscious and aware of the harmful effects of using one-time-use bottles.
Blankets
The blanket is the perfect option if you are searching for profitable products to sell online and want to attain higher profit margins. It is a 6.6 billion dollar industry and is expected to grow up to 9.9 billion dollars by the year 2027 as reported by CAGR.
Since it is a seasonal product, google trends show a sharp spike only during the winters. And it also suggests that people lean more towards a decorative, stylish product and more comfortable blanket made of wool. There are also custom made blankets that can offer print on demand service if requested by the customer.
Numbers
If you run ads on Google, it is advised to focus on two keywords first is "wool blanket" which stands at 40,500 searches, and fleece blanket, which stands around 50000 a month. Depending upon the type of blanket you are planning to sell you can try specifying your product so that you can narrow down your search to your group of potential buyers.
Yoga Mat
As people are becoming more health-conscious every day and their home is now converting into a small personal gym. The yoga mat industry is booming and has the potential to expand to 17.3 billion by 2025. This statement can be confirmed by stats given by google trends that show a pattern in the seasonality in the searches and purchases of yoga mats.
These patterns are a new year resolution season in the month of Jan and Feb, early summer season in June when people usually go outdoors, and finally, there is a gifting season which is in November and December.
Jigsaw Puzzle
We know this might be an odd one out from the ones that we have mentioned above. But it is true that the jigsaw puzzle is one of the greatest ways to pass time since the 1700s. Some people use it to relieve stress and make something beautiful. Most companies are exploring new creative ways to make puzzles more exciting and complicated.
Looking at the statistics, just after the lockdown was imposed there was a significant rise in the search which was around 820000 searches per month on average. Research published by a global research study showed that the jigsaw puzzle industry is worth around 9.1 billion dollars and has the potential to reach a compound annual growth of 15.1%.
What Caused this Spike?
Forced isolation of people into homes due to the pandemic and need of making the jigsaw puzzle more complex, creative, and exciting by organizing certain jigsaw competition events.
Artwork
Most people have a creative bone in themselves and everyone has their own taste depending on their lifestyle. If you're looking to find something different from the general choices, choosing artwork as your niche product can give a huge profit margin. With social isolation and work from home culture, people want to add some zest to their surroundings.
Before you take any new steps to sell artwork, it is better to narrow down your target audience. Our ideal artwork might include something bold, motivational, abstract, or any aesthetic photography. These are some of the designs that might be good to sell in 2021.
Headphones
As new technology and attractive campaigns are the driving force of the success of every electronic product. The headphone industry is marked at 25.1 billion USD reaching an annual growth of 20.3% by the year 2027.
In this industry, true wireless headphones are very hot right now. It lets you connect one headphone with one audio device and another one with other audio devices. Because of its small size, it is becoming one of the favorite gadgets of every individual.
It is an evergreen market and as said before it is growing substantially in this current market. So if you want a piece of the profits you must select brands that are booming a lot in this or have better campaign strategy than others.
Conclusion
The real reason behind every successful business is hard work. And most of the hard work goes into research and experimentation. Finding products to sell online that suit your needs and fit in the equation. So if you are an eCommerce seller you can try eVanik, which can help you find you manage your business and save up a lot of time and money in the process.