Everything you should know about warehouse management systems.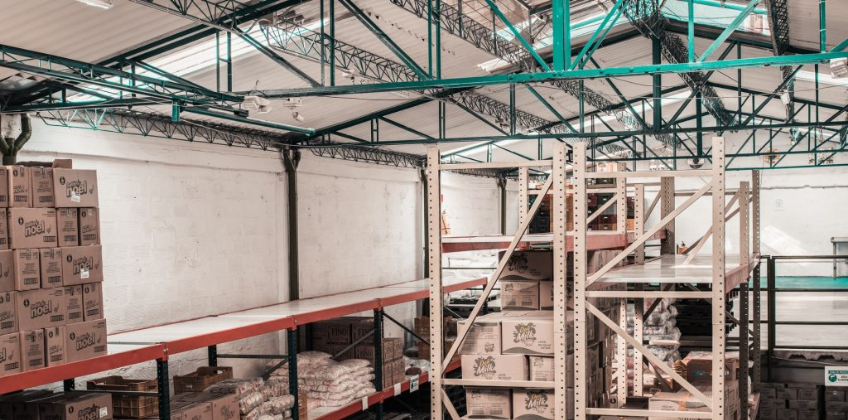 It is believed that the journey of warehouse management started in ancient times when farmers thought to keep a record of grain from the crop.
All they wanted was to use the record so that they could prevent famine.
With time and technology, the process turned out to be fast and tracking became easier.
However, the basic concept of warehouse management never changed. Therefore, it can be defined as "managing everyday operations of a warehouse".
The process includes arranging warehouse and physical inventory management, maintaining appropriate equipment, conditioning of product, managing new product, space management, packaging, stock receiving, and tracking.
Hence, improving overall warehouse performance!
And "an application or software designed to optimize the method of storage by controlling and administrating the operations in a warehouse is known as a warehouse management system".
This was a glimpse of all the content that we are going to discuss in today's blog. Let's first start with understanding the basics of warehouse management systems.
What does a warehouse management system do?
A warehouse management system controls and manages the process of stock storage with the aim of providing consistent availability of the product.
It is a software supporting day to day operations in a warehouse, giving you a centralized system to control the process of storage.
There are many other benefits of using a cloud-based warehouse management system for your business growth.
Benefits of a modern cloud-based warehouse management system
With technically growing nations and advanced customers who mostly prefer digital mediums for all their purchases, it is the right idea to adapt the smartest technology.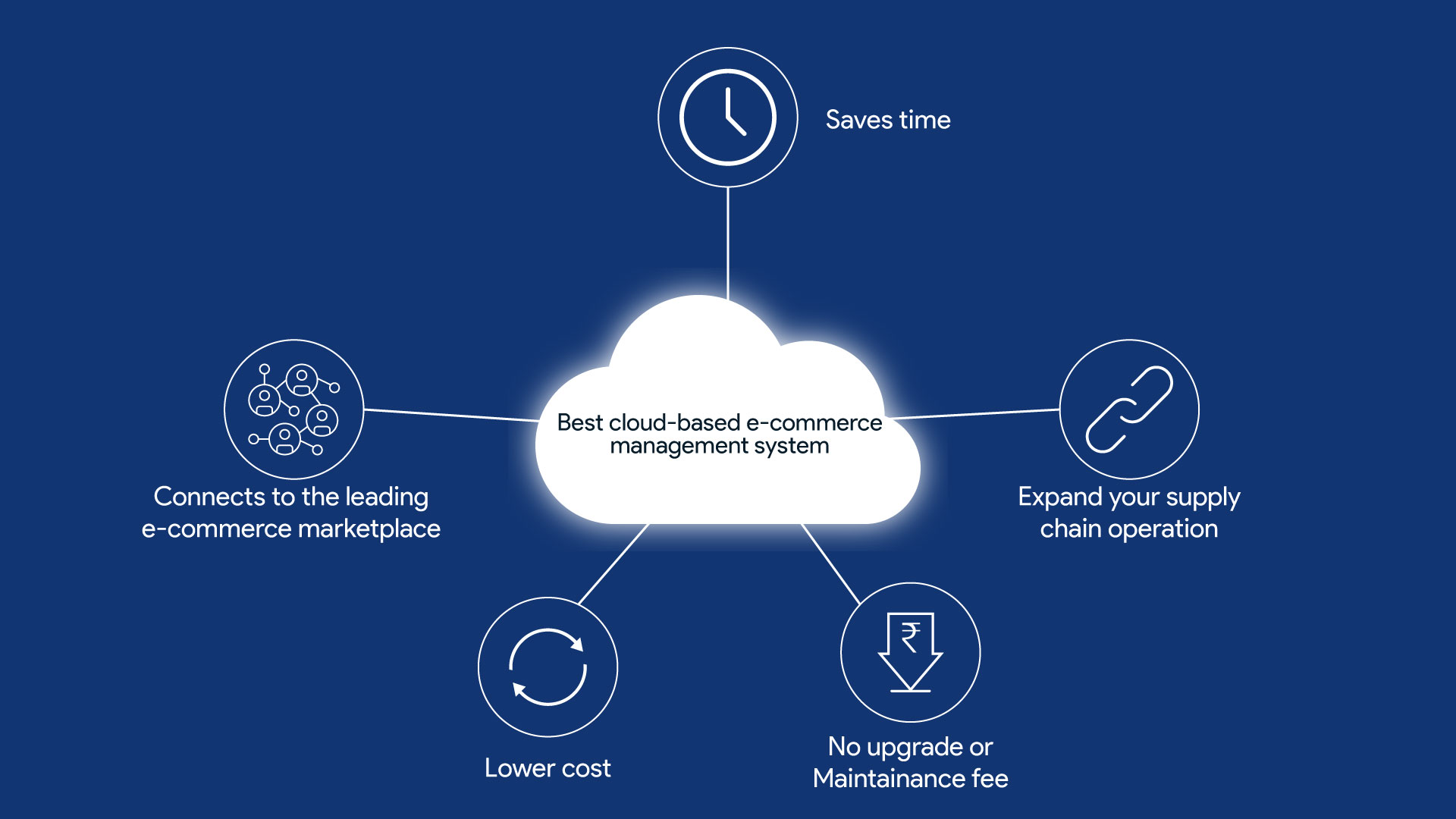 And a perfect match for that, in today's world, is moving to the "Best cloud-based e-commerce management system".
It will help you in saving your precious time by integrating multiple complex channels at once.
Connect you directly with all the leading e-commerce marketplace platforms, shopping carts, accounting ERPs, 3PL providers, and Payment Gateways.
It will help you to lower the upfront cost as you don't need to hire an IT specialist and no longer need countless software or hardware.
With a cloud-based system, there is no upgrade or maintenance fee. And still, you can always use the most upgraded version.
You can now quickly expand your supply chain operation and meet all the market expectations with a modern cloud-based management system.
Therefore, the tool helps in providing digital support to all your warehouse management processes starting from receiving goods until delivery of the product.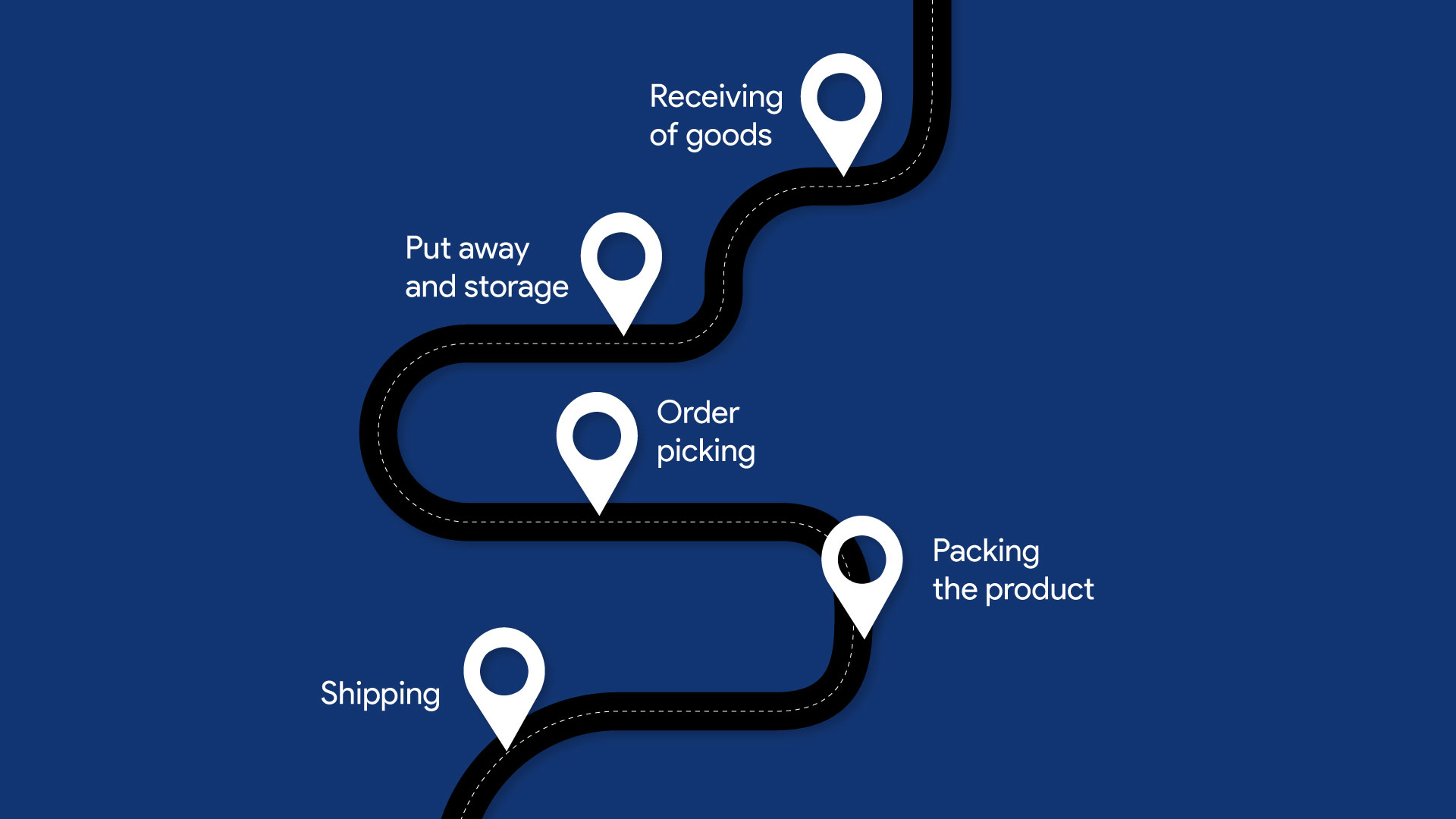 Warehouse management process
The process of warehouse management involves the following steps: receiving goods, put away and storage, order picking, packing, and shipping.
All these processes involve certain functions and you can always optimize your functions according to your business needs.
1.   Receiving of goods
The process of warehouse management starts with receiving the product and unloading it from the vehicle.
Here you have to ensure that you received the right product, in the right amount and right condition.
Don't just receive but validate!

When the shipment arrives, make sure to check and validate the product, which means you have to check the quality of the product.
Quality control here can help you in making further processes smooth. It involves checking the goods you ordered thoroughly and then taking them forward to your inventory.
If any product is damaged, keep it aside and inform about it in real-time.
Unload the products and check if the number of boxes is the same as mentioned in the
delivery shipping notice i.e. you have to check the product count.
Check all the return documents such as invoice and packing slip.
After all these processes are done you have to prepare goods received note mentioning the details of the products you received.
The details include the description, quality, date of receiving, GRN number and so on.
This will help you to make entries in the inventory about the product and you can also cross-check that you received all that you ordered.
Finally, you are ready to arrange the product in your inventory accordingly.
Receiving a new product!
 With a growing business, it is quite obvious to expect a frequent rate of new products in inventory.
With new products, you have to play a little wiser!
Remember to mark enough space for newly arrived products in your inventory and guide your team about the product and its handling.
Add necessary labels and barcodes to the product at the time of putting away and don't forget to update your inventory. As in this way your product will be ready to sell.
2. Put away and storage
Similarly, for every product once received, you have to put away the product in the right, place and keep the product in the best suitable condition.
Doing them right can help you to get the most optimum results in the future.
Make sure to do the "material handling right" for this entire process.
As by handling the product right, there will be less damage leading to more satisfactory delivery and you know the rest.
Use this principle and optimize the process!
 "Minimal touches of goods," the principle states that you should directly put away goods to its final location.
The fewer the touches are, the less will be the probability of product damage.
Also, make sure to do the put-away process on the day you receive stock.
It is often seen that when the new orders arrive, the team turns to be busy working on it. Hence, the priority of that moment is picking and packing.
keeping the new stock aside. And this may negatively affect your warehouse.
The put-away process and storage go hand in hand, once you are ready with where to keep the stock, make sure to consider the storage required by your products.
The conditioning of products must be given a high priority depending upon the needs of the product.
You can also use the ABC tool!
 According to this tool, the products get classified into three sections.
1. A Item- These are the high-value products with low sales frequency.
2. B Item- These are moderate value products with moderate sales frequency.
3. C Item- These are low-value products with high sale frequency.
You can keep C items closest to the packaging area and Vice Versa for A item.
You can also categorize the product according to its requirements.
For example, if the product is very heavy, try to place it with the proximity of the door, or if a product is required to be kept at a particular temperature, make sure to place it accordingly.
Rearrange the warehouse with time!
 No doubt the process is really time-consuming, but good management is all about investing the right resources at the right time for optimum future results.
Right?
So do not hesitate to rearrange your warehouse according to the need of time.
As there could be some products that are at high demand during summers and during winters no one wants them.
Once the put-away and storage are done to your product, you start getting orders and therefore the process of order picking starts.
3.   Order picking
As the name itself signifies its meaning, the process involves picking up the goods as per customers' demand.
It is found that this process involves the highest percentage of all warehouse operational expenses, comprising 55% of it.
The process of order picking involves selecting the item from the warehouse to satisfy all the independent customer orders.
Therefore, it is recommended for you to follow a smart technical way to analyze the process.
Choosing the right order pick up system involves the requirements of your product by customers.
Since the requirement of every product is different, it is not necessary that one plan will work for all.
So, here are some of its types!
1. Zone picking- In this method, the inventory is divided into zones and the order picker will only work for one specific zone.
The process of zone picking works best for businesses with high order volumes and multiple daily ships.
The process may take more days for shipping as products are passed around in the warehouse.
2. Batch picking- A picking process that mostly works well for any business, that follows the motive to fast order fulfillment.
In this process, instead of working for a particular zone.
The team works for the orders to pick them up in batch and move for the packaging process.
The process is considered best for businesses with high order volume and has a common SKU.
3. Discrete picking or single picking- In this process, the team works for one order at a time, the team will only move to the next order when the first order is entirely complete.
This is usually done by small businesses, businesses with a small team or business working for heavy goods.
4. Wave picking- It is similar to discrete or single picking process, the only difference is, in this process orders from all the zones are picked and orders are then sorted as per requirement.
So these are all the picking techniques, you can choose or follow any of them.
But don't forget to move to the next, till you find the best!
4. Packing the product
Once the product is picked, packing is to be done for further shipment.
All you need to be definite about is, you are shipping the right product to the right customer and of course with the right packaging.
Packing is much more than just tossing your products in a carton.
You have to be sure about the box size in which the product is to be shipped, packaging material and have to make sure if the product is not damaged.
Don't miss to check!
Before moving to the package, make sure to check the product once with the order slip.
Once you are sure about the product, move ahead with a light packaging so that the weight of packaging does not add more to the shipping of the product.
And also make sure that the packaging of the product supports its efficient transportation.
5. Shipping
Shipping is the final and one of the most important steps of this process. Once the product is packed, it is now ready to be shipped to your customers.
Reports depict that 63% of customers buy more items if the delivery takes minimum time and has the option of free delivery.
Therefore, this process needs more tracking as you have to make sure that the right product goes to every customer without creating any hassle.
Successful shipping of products confirms that your process of warehouse management is right!
Make a right decision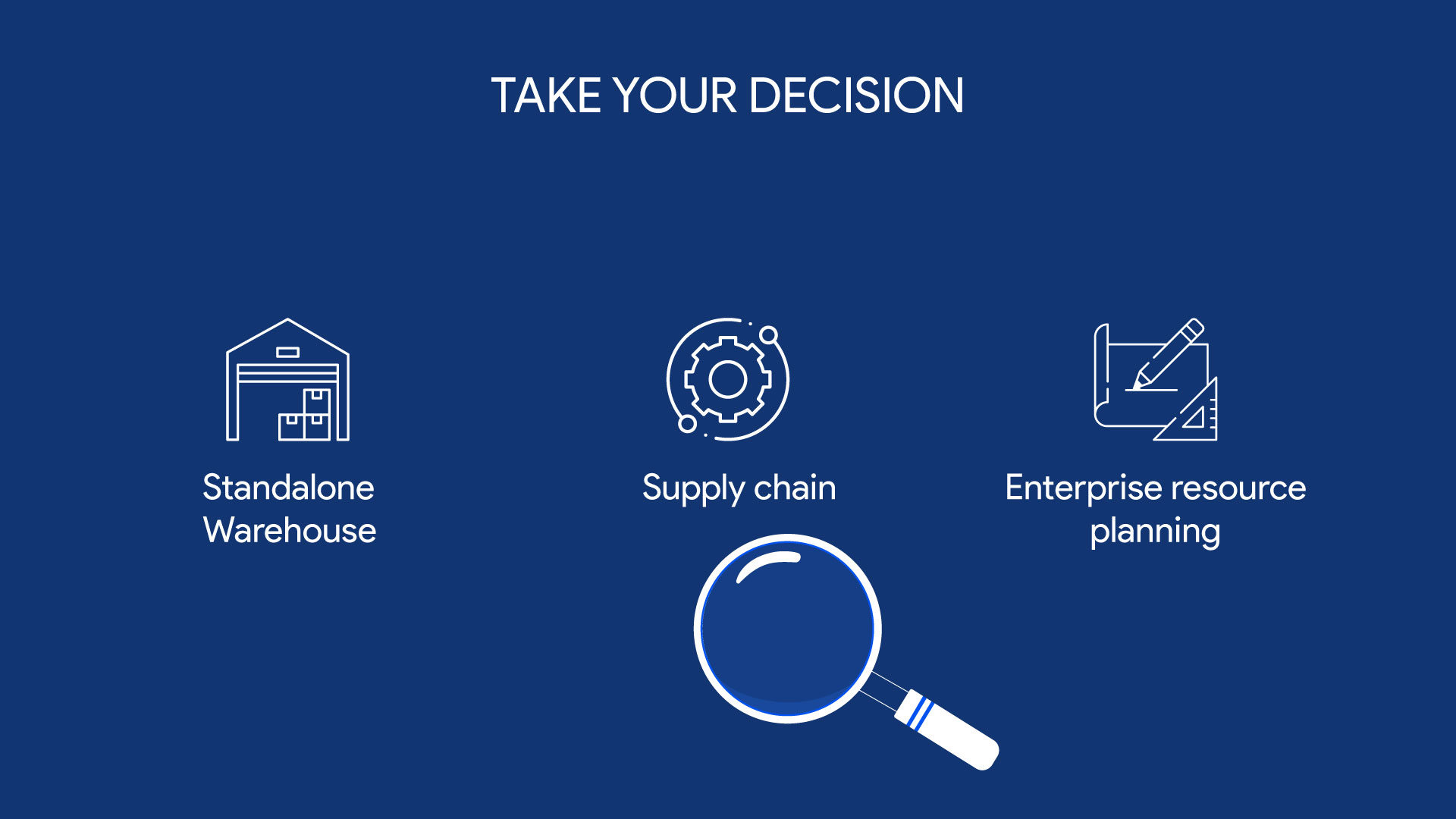 There are different ways to adapt a warehouse management system and choosing the best one increases your chance of right management.
Let's have a closer look.
1. Standalone warehouse: This management process involves managing the functions to the warehouse with some advanced functionality.
The functions that standalone warehouse manages are management of warehouse inventory, date tracking expiration, Recordkeeping, Inventory analysis and Directs putaway, order picking, and packing slip support.
It is interesting to note that it can be integrated with other systems and can be used.
Remember, if you have a small business this is an option to make a move!
The standalone warehouse system will take you ahead of traditional and manual systems without a high financial expenditure, unlike the supply chain and ERP.
2. Supply chain: The process helps in the coordination and integration of different supply chain processes.
To understand it better we can say that in this process all the manufacturers, material providers, transportation providers, distribution centers and retailers work together.
As communication and collaboration may become difficult when many companies work together, with the process of supply chain management, this is not a problem.
The process helps warehouses to integrate with suppliers, carriers and retailers.
If you are an e-commerce company or a company working with a large volume of orders from a different party. This process can be right for you.
3. Enterprise resource planning: ESP can be understood as an important system to manage everything in your business.
This system helps you in integrating your warehouse systems with many different tools and systems.
Like accounting and finance tools, human resources systems, point-of-sale systems or order managing systems, project management systems, and compliance systems.
Any business can go for ERP but is considered to be an expensive method as it could take a high budget to hire a consultant to hire with ERP procurement or sometimes a large IT team to manage it.
Using the right software for warehouse management!
The best way to manage a warehouse is by using good warehouse management software which will not only reduce the cost of your back office work but will also help you to automate and digitize all your work.
And yes, all the high growing retailers use one or the other automation tools. So if you want to be one, let's find the right tool for you.
With warehouse management software you can make your work convenient and the workflow systematic, It can help you in many ways like;
1. Control and track- With a warehouse management system software, it will be much easier to control and track the transfer and storage of your product in the warehouse.
With the software, you can scan and keep a note of all your products and inventory.
So, no paperwork and the data of your warehouse will be on your fingertips!
And you can anytime analyze data of goods shipment, payment, etc.
2.  Reduce risk- While working on your warehouse manually there are high chances of errors. The WMS software helps you work with minimal errors.
You can now trust technology!
3. Make your own plan – The warehouse management system software provides you a chance to create your own optimized process.
You can create a process that not only suits your business but also suits your product storage in the best way.
4. Branding – A quick and accurate delivery of products will help you in improving your relationship with customers.
This will help you to build up a good image of your brand.
5. Provides security – As we know, all the information traditionally was stored in hard copies with a high probability of loss in data but now you can easily deplete the paperwork and secure your information.
Also with the software, every employee will have a different identity to work with and make transitions, increasing accountability and decreasing the risk of theft.
6. Reduce operational expenses- With software, it is easier to manage all the processes in one go.
You can easily manage the process of warehouse management system i.e. receiving, putting away, picking, packaging and shipping from one common point.
It will also help you in understanding your product and its storage reducing the damage of certain perishable goods.
Even in the case of non-perishable goods, you will have an idea of the efficient use of space and labor for them.
7. Optimizing customer service- A good customer bond is all you need to grow your business, and right warehouse management software understands that.
It optimizes the delivery process right from the product order to shipping by accurately finding the item availability and exact delivery dates.
8. Better ERP, better you- The right software will help you to enhance the enterprise resource planning, making your outgoing shipment accurate and reducing chances of return.
So if you are looking for the right software with all the above features, eVanik is here for you.
Are "Inventory management and warehouse management systems" the same?
Whenever we talk about warehouse management, the term inventory management comes along.
But are they both the same?
The functions of inventory management and warehouse are somewhat similar, as both of them help in tracking parts and products, picking, packing, shipping and receiving the order.
But critical analysis helps in understanding the major difference in both of them.
We can say that inventory management is an initial step in the warehouse management system.
For example- If you want to know about the location of any product, the warehouse management system will help you to know the exact location.
However, the inventory management system will reflect that the product is somewhere in the warehouse.
Another way to understand the difference is that the warehouse system consists of multiple compartments and rows for a particular product providing the entire detail of it.
On the other hand inventory management can only provide information on how much is present here.
A final look over!
The warehouse management system supports managing the processes of the warehouse, starting from receiving the product to delivery.
A right system ensures less damage and high profit for your business, all you need to do is follow a smart management process in every step.
The system gives you convenience and provides your customer's satisfaction. Moreover, you can always keep track of the work done and improvise accordingly.
Since change is what makes you better, a good WMS software will help you to understand and create a strategy to be better, actually to be the best.