Why Seller Must Start Selling Online in 2022 || Future and Benefits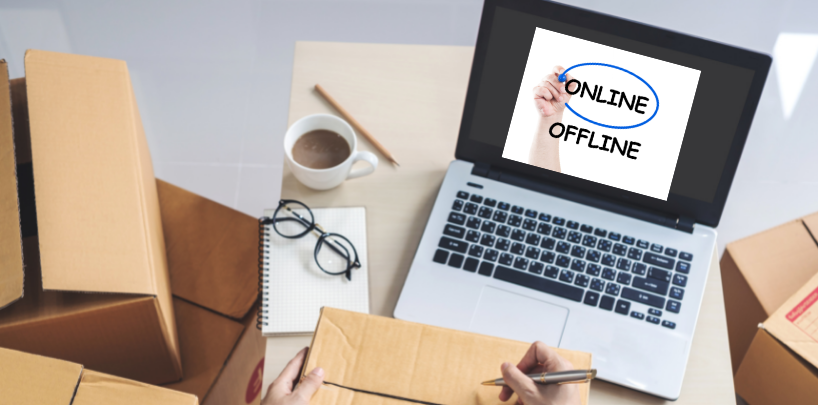 Introduction
Since the barter system till the current date, businesses have seen a massive change in pattern and goals. Earlier, it was started to fulfill customers' demands, but fulfillment is not enough today. You need to be advanced in approach and expertise in your products/services. Likewise, business modes have also been changed and have brought new necessities for sellers to offer their potential buyers. 
Sellers who do not know what extra they need to add to the current offline business abilities, they now have to start dealing ONLINE for better sales. Yes, eCommerce sellers or Online Sellers are the future of the industry. In the past two to three years, physical shops have lost, and the digital world has become a master gateway of all service providers. Buyers are more aware and experimental and look for uniqueness and effectiveness. And if you are not ready to adopt a new and significant change in your business operations, you need to check out a few points that tell you about the good causes of online business hike and its future scopes.
Reasons to Start Online Business for Sellers
Independence in all possible ways is remarkable and opens the door to success. If you are smart enough to add this liberty to your rules, nothing can be more fruitful, especially for doing business. It is essential to realize that innovation is the factor of competition. And the more you can compete, the longer you're going to rule the marketplaces. For example, receiving bulk orders from multi channels simultaneously every minute and processing it at that moment itself without any fulfillment barrier. Unlike offline mechanisms, you do not have to wait for the customers to approach to deal with your shop's opening-closing timing. 
You can receive conversions on multiple business platforms without time barriers. If you are the one who has no other focus than just doing a high-ranked business performance, you must not go obsolete in your mode—kick start competing in the modern market as per your filtrations. Add your USP (Unique Selling Point) and get flexible operation capabilities with your chosen strategies.
Measurable Business Model
Measurement is a critical skill to build when operating in any business model. In offline mode, you cannot compare yourself and your rivals. However, the highlighted benefit of Online Business Models is getting real-time analytics on sales and sentiments. You will have all reports on what your and rivals' actions are giving you in return. You will never miss out on your lacking pointer. Online businesses are vague to keep track of your business activities. You can always get the best results if you follow the suitable business operation method facilitated by an integrated business software. 
It offers transparency even in Multichannel Operations. Regular analysis of your customers' remarks and their conversion rate is all you need to improve for expanding your business. And highly noticeable is the marketing analytics through which sellers get the freedom of planning better insights to indulge higher conversions. 
Futuristic Business Model
In the current situation, offline businesses (of every industry) have seen a drawback of shutdowns and are struggling in profitability. In this regard, eCommerce has become one of the best solutions where customers also switch their purchase interests. It directly signifies that online business channels have a good advantage of sales opportunities. Customers have started trusting on buying products from Flipkart, Myntra, Meesho, Amazon marketplace sellers that are possibly not going to get back in an offline mode.
As we all plan for our future, the business also requires future planning to avoid certain losses and ensure long-term survival. You could only operate if you get buyers who could provide you with finance in exchange for your products. But what if you lose out on your buyers themselves just because of your old processing? It's useless to survive then. That is why keep yourself on going with an updated business format and enhance your presence on stages where your customers' interest resides. 
Large Scale Operation with Niche Customers 
Niche customers are focused or target customers for any business. If a seller could grab their niche customer effectively and efficiently, it would save time and effort and allow them to concentrate on improving their scope. Offline business models do not allow you to approach your target customers directly. In contrast, the online mode has a system of keywords inclusion through which only niche customers would see your products and their special offers. 
You do not have to spend time and finance on people who are not your target. You may get this marketing tool at your convenience and simultaneously allow your customer engagement on every eCommerce platform and influence some non-intentional buyers to make purchases.  
Growing your competition is the real challenge of commerce. Today, every business firm is required to build a sound business management system with speed. In this regard, eCommerce sellers need an automated business management tool that could grant them the skill of ease and smooth working. They have to analyze their business regularly as per the dynamic environment. 
Technology has emerged a mentality of bringing new and innovative things to fulfill customers. They are expected to add something extra and advance in the products quickly and attractively. That is why you should also start operating on e-commerce channels that offer large-scale opportunities and speedy expansion. With the help of digital platforms, sellers should start fulfilling their niche customers' expectation on products' innovation.
Economical Advertisements
In Online platforms, you are not restricted to advertising yourself with massive investment. It is good to promote your brand on social media like Facebook, Instagram, etc. You may also choose the option of investing money in cross-promotional activities on websites. This technique guarantees you responses that may be quick or slow, but it would indeed show some good results. 
You may also get the chance to understand your customer's tastes through the feedback feature of digital promotion. Sellers may take assistance from digital marketing that creates conversions on direct or indirect play on product keywords that increase your product visibility. These processes are affordable compared to other marketing methods for initial online sellers who want to advertise economically to get accountable engagement. 
When taxes become a matter of decision, the best thing you can do is reduce these taxes to lower your capital expenditure. As taxes are the liabilities for any business, online business facilitates sellers to work in the market with less tax involvement. This means sellers would not be paying taxes for a physical store and its maintenance expenses, electricity bills, infrastructure, and so on.
All you have to do is establish a warehouse for your inventory storage. After receiving bulk orders, you can initiate the order processing in no time with less working capital and taxations. 
In offline mode, sellers or retailers are needed to set up an office with infrastructure that could be the place of marketing and customers visiting. In comparison, the online business model needs just a platform to expose the product and a well-managed warehouse system. This can be accomplished if the seller implements an eCommerce integrated business management system. 
This automated system gives quick, comprehensive, and transparent analytics over areas like order processing, inventory management, accounting, reconciliation, etc. This means you do not have to take special care about these aspects of administration. You may focus on introducing some more incredible features and creative marketing strategies. In this manner, you could work in a busy and fast market style and get the highest reach and conversion among your niche and potential customers. 
Conclusion 
This is a full coverage article for offline retailers, and those who are wondering why their sales went low in offline stores, think twice before continuing the same mistake. Also, those dealers who are ready to enhance their sales abilities would get beneficial information regarding their decision of online selling. 
It is never too late to correct yourself and learn from your downs too. Only then you will be reaching the height of success. If you have suffered due to your traditional business medium, switch to online mode and recover yourself again to compete with these world-class rivals for the betterment of growth.