Best accounting software for e-commerce sellers in india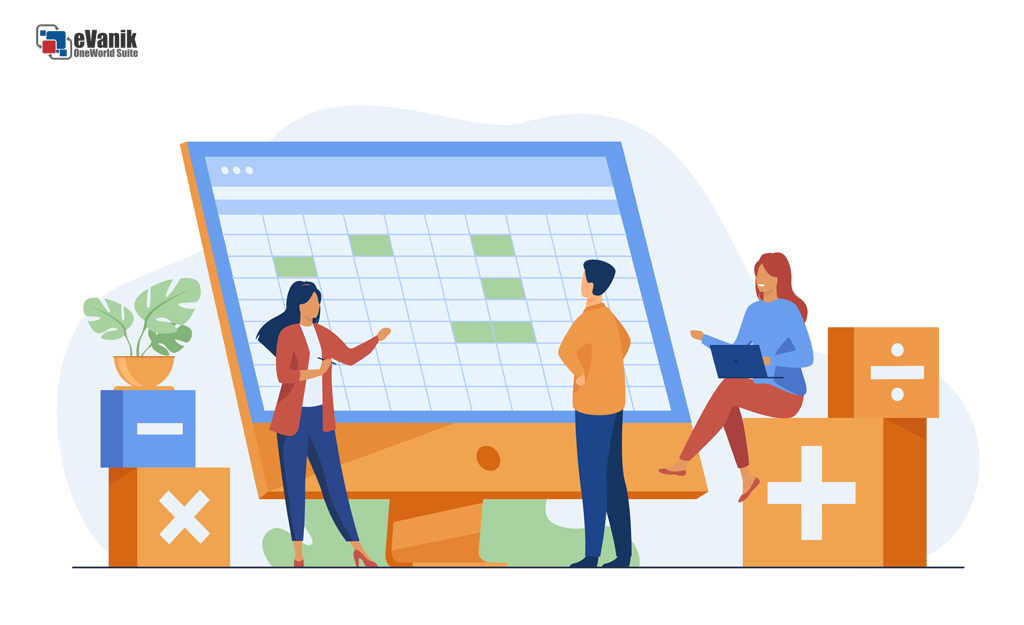 Finding out the most appropriate accounting software for your online business on marketplaces could be a really difficult task to choose from.
When you are considering to buy accounting software for your eCommerce business and especially if you are selling through marketplace platforms such as Amazon, Flipkart, PayTM, etc, it's important to consider several factors. Moreover, if you buy the wrong one, it wouldn't be easy to make a switch to another one in the middle of the year.
Here's what all you must consider before you go ahead and buy your accounting ERP
Integration
Your accounting software should be able to automatically integrate with marketplaces and fetch all data points like sales orders, returns, payments, commissions & marketplace fee and TCS
These integrations should be real-time primarily because marketplace transactions are dynamic in nature. If you are thinking of downloading files from your seller accounts and then uploading it back to your accounting software, it may not be a good idea, simply because what you have downloaded today may get updated or modified by the marketplace tomorrow. This will become an infuriating struggle to identify the changes and re-updating your accounts
Most accounting software does not have a direct integration with eCommerce marketplace channels. Therefore, it's important to look for a middle layer solution that talks with your marketplaces and your accounting software simultaneously and seamlessly. eVanik OneWorld Suite is one such option that has direct integration with all major eCommerce channels and major accounting ERP providers.
Features & Functionalities
The nature of accounting transactions in the eCommerce marketplace business vs. a regular trading business is largely different. The following table illustrates some of the key differences between both.
Nature of Transaction
Ecommerce Marketplace
Offline / Trading Business
Sales Orders & Fulfilment
Multiple Statuses (Changing dynamically)
Party ledger of Marketplace instead of the end customer
Invoicing done by Marketplace (FBA Model)
Simple direct invoicing to end customers.
Payments
Received in bulk for multiple orders/invoices after multiple deductions.
Payments received against one bank account or GSTIN location even if transactions have happened in multiple locations
Direct full payment against an invoice from the end customer.
Commissions / Fee
Multiple charges linked against order/product/fulfillment model etc
Charges are dynamic and ever-changing
Charges to be adjusted at every order-level / item-level and warehouse-level
Mostly unlinked to sales invoice with exceptions like Shipping Fee
Sales Returns
Returns initiated by the marketplace vs. returns received by the seller – when should it be recorded
Recording accounting vouchers for replacement orders
Simple Return Voucher or Credit Note
Refunds & Reimbursements
Claims vs settled reimbursements
Refunded orders but not settled to seller
No impact
Inventory
Stock transfer from the main warehouse to channel warehouse
Recalls from channel warehouse to the main warehouse
Inter warehouse movement done directly by marketplace channel
Damaged and unsellable stocks accounting treatment
No impact
TCS
TCS is implemented only for marketplace eCommerce business
Accounting entries of TCS
TCS on return orders
Reconciling TCS with GSTIN portal
No TCS impact
accounting software may not have such large data handling capability. This may cause a threat of loss of valuable data, incorrect reports and delay in filing your returns.
Reporting your online business comprehensively in the way you would like to see it.

Ease of Use / Accessibility 

Simplicity is the key to good accounting software. Ensure that you take a detailed product demo and list down all your queries at the time of the demo. 
Most software will provide you a limited free trial period. Make maximum use of this trial with your actual data and see if this is working for you or not.

Cost

Acquisition cost – Initial cost and annual maintenance / AMC charges
Operational cost – Server cost
Support cost 

Support and Implementation

While most accounting software comes with standard support channels, it's important to scope out your implementation requirements and support requirements with definitive timelines.
Check the ratings and reviews to see how the software company fares on customer support and implementation.
Customization will be required especially when you are into this complex business of eCommerce marketplaces. 
Tally .ERP 9
Tally .ERP9 is undoubtedly the leader in Accounting software in India. 
It is a windows-based enterprise resource planning software. The software handles accounting, inventory management, order management, tax management, payroll, banking and many such requirements of the business. It supports all day-to-day processes from recording invoices to generating various MIS reports.
Tally boasts of 6 million overall customer base out of which 2 million are with an official Tally license. 
Tally does not have any direct integration with any eCommerce companies in India and hence the commonly used workaround is the import and export of spreadsheets which may not be a good practice.
eVanik OWS is the only tool that has an automated chrome extension based integration with Tally ERP9. This means that there is no need for you to manually upload or download vouchers. No 3rd party module (TDL) needs to be installed into your Tally license. All ledgers, SKUs get mapped or created automatically through eVanik. And the GST reports generated on your Tally will be 100% accurate and error-free.
The biggest limitations of using Tally are:
Limitation on data. Experience says that after posting 50-70k vouchers, the software tends to slow down. Generating GST and other reports take a long time.
Tally is a single company / single branch software. Branch accounting is not available
Its an offline and desktop-based software and cannot be accessed from a remote location
The multi-user version of Tally can run only if all the users are on the same network.
QuickBooks Online
QuickBooks Online provides direct integration with very limited marketplace channels. In the Indian eCommerce context, this is even more restricted. However, if you have the technical expertise, you can do an API integration of a few of your marketplaces (that provide API) directly with QuickBooks Online.
QuickBooks offers on-premises accounting applications and cloud-based versions with features like expense tracking, tracking bills and due dates, and reporting
Currently priced at Rs. 4,800/- per year, QuickBooks comes with a 30-Day Free Trial. The "Simple" edition of QuickBooks Online limits to 1 Billable User, 250 Charts of Accounts, lack of custom reports and no multiple branch accounting options.
Alignbooks
Alignbooks leads the house when it comes to eCommerce accounting in India. Alignbooks is a Delhi based company focused on SMBs. Alignbooks recorded 1000 new customers within the first year of its launch.
The biggest advantage of this software is that it is completely automated and integrated with eVanik OneWorld Suite. Server-based APIs between Alignbooks and eVanik ensure real-time and automated transaction posting without any manual intervention. Reports are highly customized and the support is available 24×7 from the company. It's Multi all the way: Multi-User, Multi-Company, Multi-Location, Multi-Branch and unlimited transactions.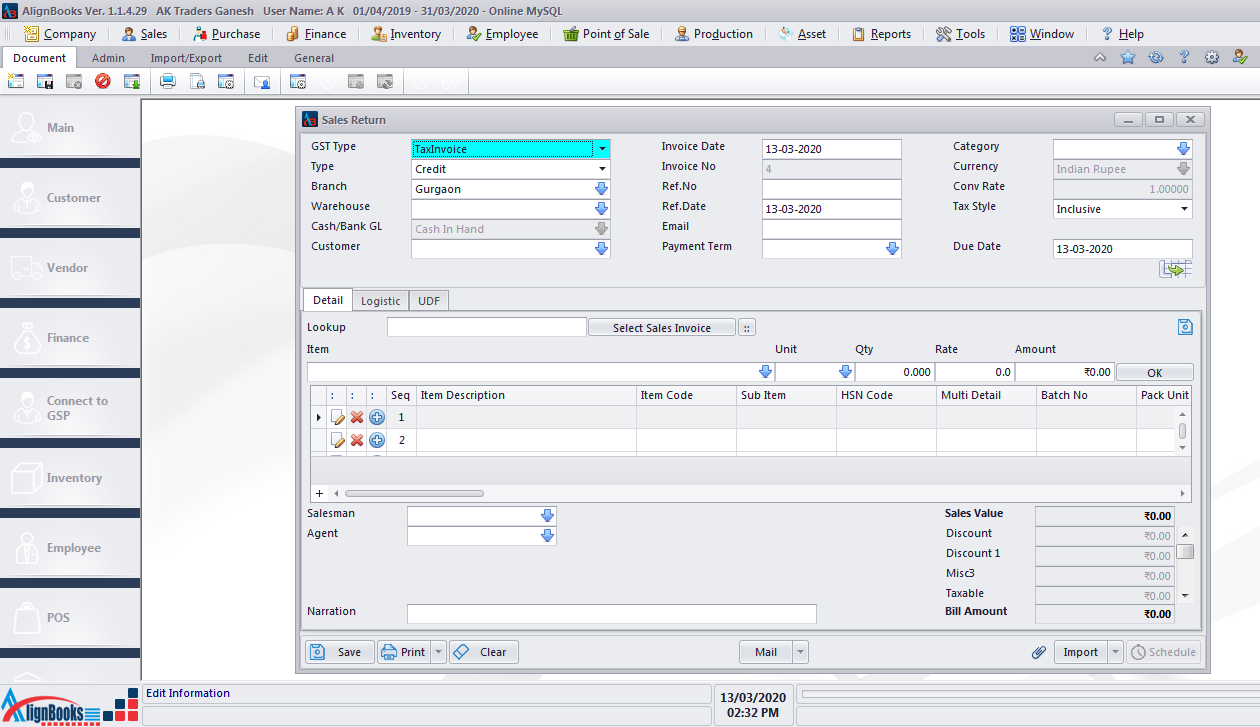 Zoho Books
Zoho Books is one of the most sought after cloud-based accounting software in India and now globally. Zoho Books provides end to end accounting and also has a very simple and useful mobile application in Android and iOS.
The pricing of Zoho Books is very attractive for small businesses The standard edition comes at just Rs. 2,499/- per year with a restriction of 5,000 invoices annually and the premium edition comes at Rs. 19,999/- per year with 25,000 invoices. The pricing steeps up with more number of invoices.

Ecommerce integrations are limited to sales orders and returns. Payments from marketplaces can be managed through their bank feed integrations. Cons – Single Branch, restriction on the number of transactions, limited users, etc.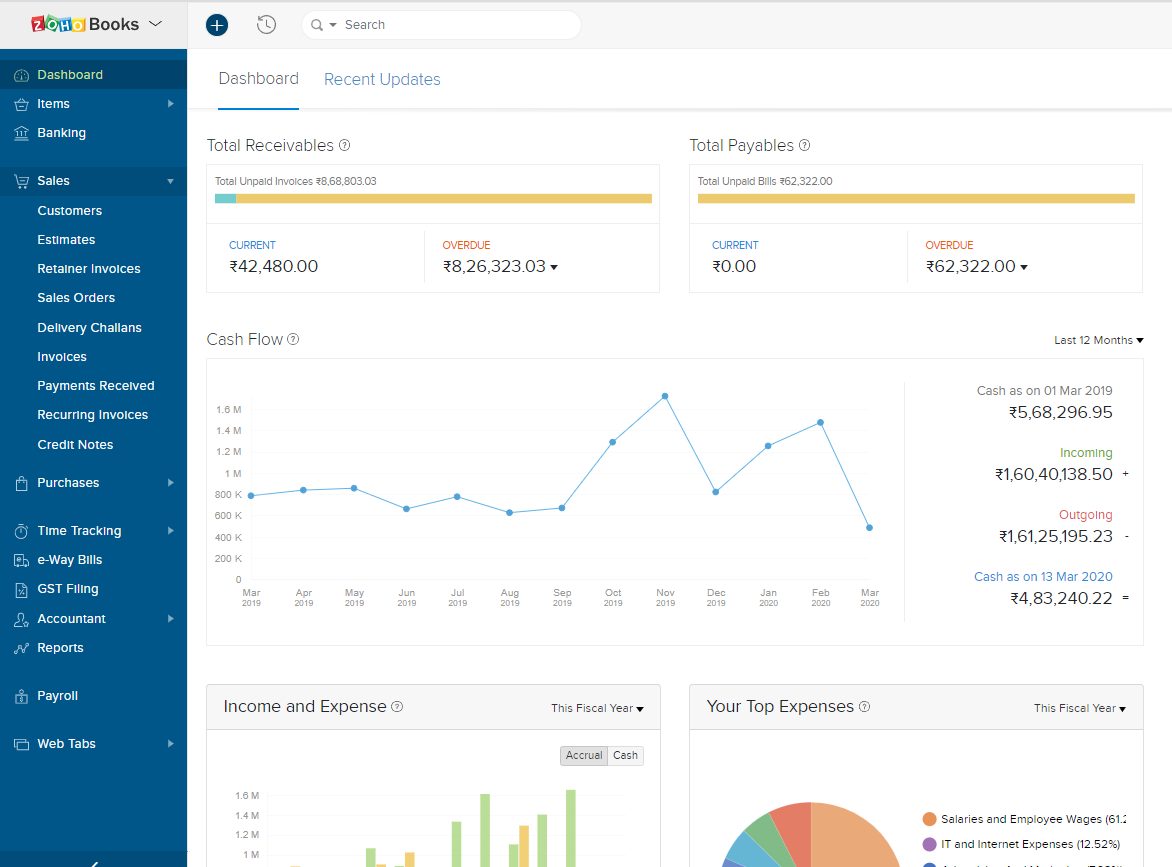 NetSuite
NetSuite is one of the leading solution providers of cloud-based business management software. NetSuite helps companies manage core business processes with a single, fully integrated system covering ERP/financials, CRM, eCommerce, inventory and more. NetSuite is focused on strong compliance management and designed for large enterprises. If you have a global and large enterprise business with multiple verticals, NetSuite is worth checking out.
Pricing of NetSuite may be one major constraint if your business is into early or growth stages. NetSuite's cost depends on several factors including the selected product configuration, add-on modules required, total user count and contract duration. NetSuite's base license pricing begins at $999 per month with general user access listed at $99 per month.
NetSuite comes with a basic integration with eVanik OneWorld Suite.
Xero
Xero is another popular online accounting software. Right from the Xero login page, the overall experience of the web and mobile version is fantastic.
Xero comes with integration with over 800 third party apps and a very hands-on expense management module. Xero boasts of over 2 million subscribers. The UI of Xero is one of the most beautiful in this segment.
Xero also claims to provide a reconciliation of Amazon FBA transactions and the Amazon Seller Central can get integrated with Xero. Besides Amazon, integrations with Alibaba, Etsy, and eBay are also available.