All the features in One Place
STEP 1. Integrate your Marketplace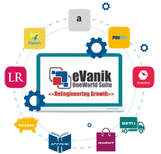 Amazon Marketplace Web Service (Amazon MWS) is an integrated web service API that helps Amazon sellers to programmatically exchange data on listings, orders, payments, reports and more. Data integration with Amazon enables high levels of selling automation, which can help sellers grow their business. By using Amazon MWS, sellers can increase selling efficiency, reduce labour requirements and improve response time to customers.
How to integrate your Amazon Seller account and eVanik​
Detailed Integration Guide(Amazon.in seller account sign-in required)
Pricing Plans​
Upgrade your eVanik OWS Plan Customized Plans for all business sizes(Free Trial for 14 days)
No manual upload or download of data required ever​
In case of multiple Seller Central accounts, locations or warehouses,
eVanik OWS automatically seggregates and sorts the data
All sellers must have a verified and active Seller Central account for the purpose of integrating it with eVanik OneWorld Suite.
STEP 2. Setup your Products GST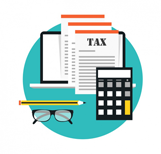 eVanik gives you the power of setting up various dimensions for every single product. Map your SKUs GST rates, common accounting code, Master Category or weight and volumetric dimensions, just once. Our machine learning algorithms will analyse and process information on its own giving you a seamless reconciliation and accounting experience.
The simplest way to map and manage your e-commerce GST​
You can link all your products across multiple marketplace and offline channels to common GST tax groups and enable seamless sync of your listings.
GST setup dashboard (Evanik ERP account sign-in required)
Tools to help you setup​
Edit one or more products(Evanik ERP account sign-in required)
Setup Master Categories(Evanik ERP account sign-in required)
STEP 3. Integrate with Tally.ERP9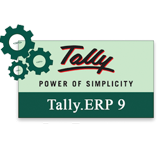 We understand the complexities in accounting for ecommerce business. With our state of the art one-click integration layered with robust and GST compliant algorithms, eVanik handles all accounting entries seamlessly.
One Click integration with Tally.ERP9
eVanik's chrome extension based technology seamlessly syncs all orders, returns, payments and fee with your Tally software. Invoice, customer, Order ID details come automatically. Returns get adjusted against original invoices and payment vouchers will have all references.
Install the Chrome Extension
API based Sync with Zoho Books and Custom ERP integrations​
Zoho Books Integration with eVanik OWS
Watch the Video
STEP 4. Manage your Accounting and Reconciliation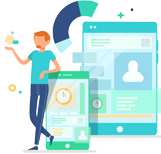 Use eVanik's real time reports and dashboards to get a firm grip on your e-commerce business.
Real time dashboard to provide you accurate insights into your product level profit and loss across date ranges
Profit and Loss summary
(Evanik ERP account sign-in required)
Export Sales, Payments, Returns and Tax reports for all marketplace channels and maintain your library of downloaded reports​
Report Generater
Your Chief Financial Controller at your fingertips. Get complete overview of your e-commerce reconciliation, find the gaps and deeper insights.
Reconciliation Dashboard
Automate Buyer Feebbacks(Evanik ERP account sign-in required)
Manage Common Virtual Inventory(manage common inventory for all sales channels; Evanik ERP account sign-in required)​